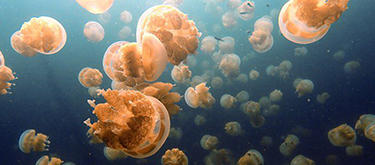 #Palau

The Republic of Palau is scenically magical. For such a tiny area of land, it packs a big punch. It's hard not to be overwhelmed by its extraordinary array of natural wonders: this is an archipelago of about 200 largely pristine limestone and volcanic islands, blanketed in emerald forest, surrounded by a shimmering turquoise lagoon. Unsurprisingly, diving is the number-one activity here, with truly world-class dive sites. Divers swear by Palau's exciting seascape, fascinating wrecks and stunningly diverse marine life – it's not dubbed 'the underwater Serengeti' for nothing. Teeming with sea life, Palau is known as the "underwater Serengeti". Reefs here can open up to the deep sea caverns and tunnels. Coral-covered WWII shipwrecks are popular div sites.

Let's find out more about this beautiful diving paradise by all the posts shared by Dive+ users.

🌊🌊You can share your posts with #Palau to help more people get to know the diving sites.

🦈🦈You can look for diving buddies who are also planning a trip to Palau.

🐬🐬You can contact local dive schools or instructors for collecting diving info.